House and land packages are a fantastic choice for renters who are struggling to break into the property market but are priced out of existing homes. But many potential home buyers are sceptical when they see the possibilities. And there are many hidden costs in house and land packages that can surprise you if you're not careful.
Because of the numerous hidden costs, you'll find in many houses and land packages, Darren Walters, CEO and Founder of No1 Property Guide has put together this article to help. We'll highlight everything you need to be aware of when looking at house and land packages as well as the difference between turnkey and full turnkey homes.
Turnkey vs Full Turnkey House and Land Packages
As the most respected no or low deposit house and land specialist in Australia, Darren understands what it takes to provide a quality product and service to every client. Which is why No1 Property Guide only deals in full turnkey house and land packages.
But many home buyers don't know the difference between turnkey and full turnkey. And they fall into the trap thinking they're being offered a complete package.
A turnkey house and land package is essentially just the barebones. What's included can vary, but for some builders, it means just the walls and a roof. While some builders will include furnishings, driveways and maybe a clothesline. But, if you want your driveway or clothesline you'll need to pay extra, in cash, to get it built.
Full turnkey house and land packages on the other hand include everything you need to live in your new home. From benches and internal paint to the driveway and a letterbox, a full turnkey build has everything you need.
What are the Hidden Costs for House & Land Packages?
As mentioned before, house and land package hidden costs are generally related to the inclusions. Or more accurately, the lack of inclusions. Many potential home buyers see the advertisements, billboards and commercials of stunning house and land packages at amazing prices and dream of buying their dream home.
However, these advertised prices are generally the absolute minimum price available and won't include additional inclusions in the price. These can cost anywhere from $5,000 up to almost $100,000 depending on what inclusions are missing. This can be absolutely devastating for most buyers! Most won't have finance approval for an additional $100,000 on top of what they paid for.
There are also additional fees and charges that many builders or developers will not include in the contract price that you will need to cover. Including legal costs, site fees or even additional construction costs that would normally be a part of the build price.
Why No1 Property Guide Only Does Full Turnkey Builds
These hidden costs of house and land packages are why we specifically only do full turnkey builds. We understand everyone wants to own their own home. But we don't believe in advertising incorrect pricing or new home prices that are too good to be true.
That's why we only deal in full turnkey builds. By only dealing with full turnkey house and land packages, we're able to ensure you are getting a new home that includes everything you'd expect it to. Without you needing to pay out of pocket to get basic living necessities like a driveway.
This means the price you see on the contract is the exact price you pay. No hidden fees, no hidden costs, and no nasty surprises.
Doing this allows us to provide affordable new home solutions to home buyers across the country.
Happy Clients
"At first I thought this was too good to be true, but straight after submitting my interest I received feedback. During the entire application process Clay kept me well informed and always made time to answer my never ending questions. Thanks to Darren and his team my dream is now reality. "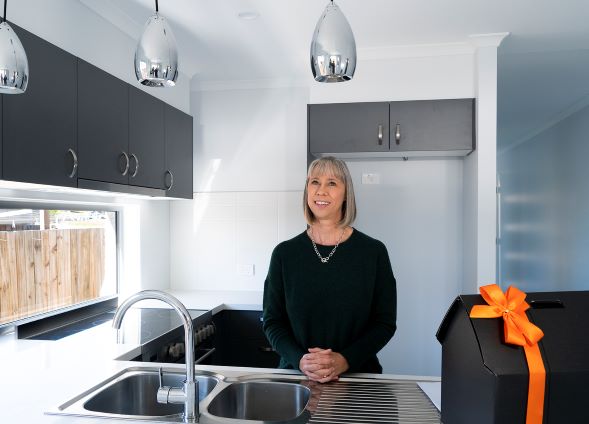 Michele Stone
"Thank you to Darren, Clay and the team for helping me and my partner secured a home loan in the middle of the pandemic. Clay and Taylor go above and beyond to make every step so simple for us. We can't thank you guys enough, you guys are the best in the business. We appreciate all your help."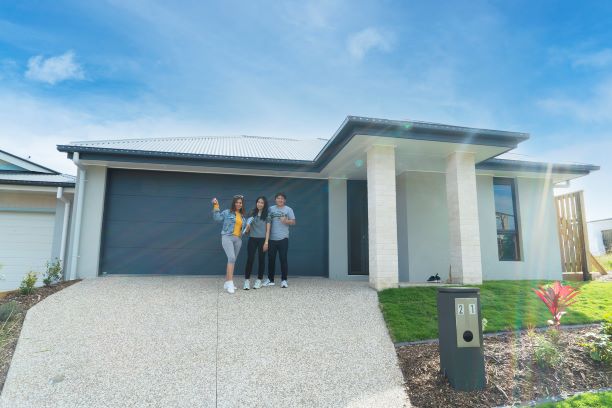 Patinya Kanasa
"I am so greatful for Darren, Clay and the team they have been so supportive throughout this journey they understand that the process of buying our first home is super stressful and they have taken care of us every step of the way. Very greatful to be approved and super excited to start the building process! Thankyou, Thankyou Thankyou"

How to Get House & Land Package with No1 Property Guide
Starting your homeownership journey with No1 Property Guide is easy thanks to Darren's unique pre-qualification system. This allows our New Home Specialists to accurately assess your borrowing capacity without needing to perform full credit checks and affecting your credit score.
Knowing your borrowing capacity means you can look at new builds and locations that fit your budget without risking disappointment. It also means we're able to tailor your application to suit lender requirements and increase your chances of approval.
Darren has helped thousands of renters escape the rental nightmare using his new home system. That's why he has become the most respected no or low deposit new home specialist in Australia. His system takes into account your entire situation to calculate what you can borrow, rather than just looking at how much deposit you have.
If you're sick of renting and want to own your own home sooner, then complete our pre-qualification form today. Once you've completed the form, our New Home Specialists will get in touch to discuss your factual new home options.
ARVE Error: src mismatch
provider: youtube
url: https://www.youtube.com/watch?v=4yA-XVv5hu4
src in org: https://www.youtube-nocookie.com/embed/4yA-XVv5hu4?feature=oembed&wmode=opaque
src in mod: https://www.youtube-nocookie.com/embed/4yA-XVv5hu4?wmode=opaque
src gen org: https://www.youtube-nocookie.com/embed/4yA-XVv5hu4