Want to know how you can turn your new home into a more eco-friendly and sustainable space? Then look no further. We've got the tips and tricks you need to help save energy, reduce your impact on the environment and work towards creating a more sustainable house.
Darren Walters created No1 Property Guide to provide renters with no or low deposit new homes that are affordable. But just because you're building a home with no or low deposit doesn't mean you can't make sustainable choices right from the start!
Whether you're renovating your old family home or want to know how you can make little changes in your no or low deposit new home from No1 Property Guide, these sustainability tips are going to help.
Solar Panels—The First Choice for any Sustainable House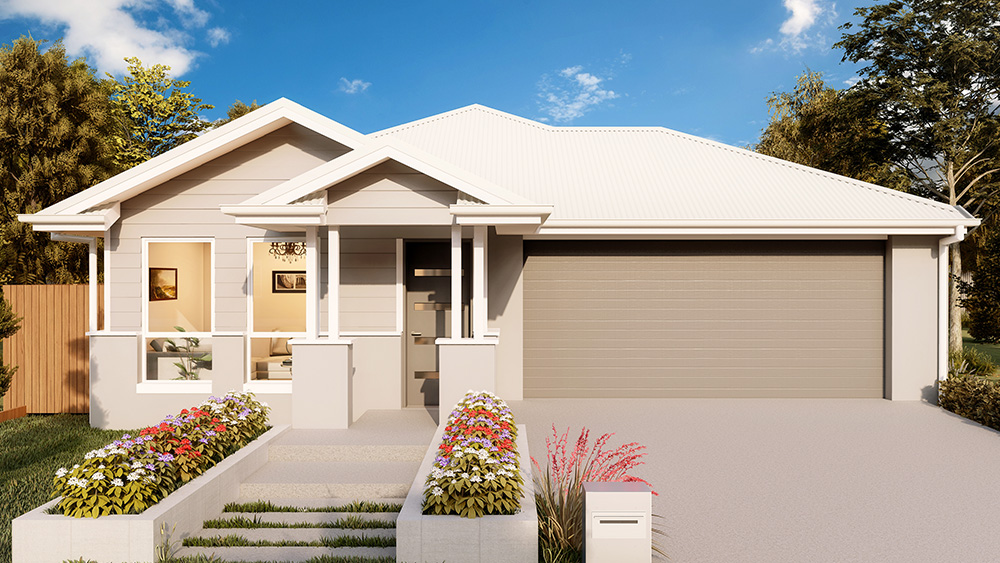 We'll start with the obvious one, solar panels. One of the most common features of a sustainable house in Australia is solar panels. Just make sure, if you're going to install solar panels, that you invest in a good battery system for those dark, gloomy days with no sun, so you're not left in the dark!
Depending on what part of the country you're in, you'll able to get rebates from the government which can help reduce upfront costs as well.
If you're looking ahead during the design of your new dream home, talk to one of our New Home Specialists about what solar options are available. With solar options starting from as little as $7000, there are plenty of ways you can use solar to create an eco-friendly home.
Lighting
Eco-friendly lighting is another common feature you'll find in a sustainable house. Moving away from incandescent bulbs and using fluorescent lamps or LED bulbs is an easy change. But it's one that can save you thousands over the years.
Whether you've built a new home through Darren's no or low deposit new home system or bought an existing property, switching incandescent bulbs to more sustainable options is as easy as changing a lightbulb!
Sustainable Home Appliances
Getting the right appliances for your home is important as well. A lot of common household appliances are available in an eco-friendlier version, including kettles, ovens and even dishwashers. An easy way to tell if your appliance is going to chew through your electricity is the check the energy rating. This is just a simple rating of how energy-efficient they are.
Of course, efficient use of your appliances can be just as effective as buying eco-friendly models. Cooking dinner in the oven? Don't open the oven every 10 minutes to check the food. This lets out the heat and you'll waste time and energy getting the oven back to the proper temperature.
Keep Yourself Honest with Water & Electricity
Speaking of efficient use, there's almost no bigger energy-saving method than simply keeping your electricity and water usage in check. Don't install an energy-efficient hot water system or a water-saving showerhead and then have an hour-long shower every night.
Try to make sure you're keeping your water usage down to a reasonable amount. And remember to turn off lights and power points that you aren't using! These seemingly small steps add up to big savings in the long run.
You may like:
Heating/Cooling Your Sustainable House
Another easy way to save on electricity is managing the heating and cooling throughout your home. It's no secret that it gets hotduring summer, so it's tempting to blast the air con 24/7. But this is a huge waste of electricity and is going to cost you.
Try to only run the air con during those oppressively hot days and turn it off when you're leaving for work or before you go to bed. Simply reducing the hours your air con is running will reduce your energy usage. The same applies to your heating as well!
When you opt for a ducted air conditioning system when building your home through No1 Property Guide, you can easily control the temperature of every room in your house from one remote.
ARVE Error: src mismatch
provider: youtube
url: https://www.youtube.com/watch?v=A4r5PlUUb5o
src in org: https://www.youtube-nocookie.com/embed/A4r5PlUUb5o?feature=oembed&wmode=opaque
src in mod: https://www.youtube-nocookie.com/embed/A4r5PlUUb5o?wmode=opaque
src gen org: https://www.youtube-nocookie.com/embed/A4r5PlUUb5o


Smart Systems for Every Sustainable House
If you're looking for an all-inclusive sustainable house feature, a smart system is probably your best bet. Smart systems can integrate appliances and technology throughout your home into a central system. From there you can monitor and manage everything easily.
These are great for setting timers on air cons and heaters. Or remotely turning lights on and off throughout your home. Smart systems will usually run off Wi-Fi and aren't always the best option for your home as they can be expensive upfront. So do your research before investing in one.
"A massive THANK YOU to Caleb, Clay and Darren at No1 Property for helping turn our dreams into reality! Without their patience, persistence and overall effort, we wouldn't have been able to make this happen. Their immaculate service was so encouraging and reassuring, that even during times when we may have felt tested, they were supportive in ensuring we got past it and onto success, making it super easy to work with them. We couldn't thank you enough for all that you've done and your service!"
"We can't thank Leon, Caleb, Clay and Darren enough for helping make our dream a reality, we got unconditional approval last week and now steaming ahead to fulfil that dream. The communication has been great and regular updates have been appreciated during the first part of the journey and now we move on to land settlement and then building our own home."
"Massive thank you to Darren, Clay, Taylor, Leon and the rest of the No.1 Property Team for their support and guidance in buying our first home. They were there every step of the way providing advice and were always happy to answer my million questions. Nothing was ever too much trouble. They made the entire process so easy and made what I thought was going to be a really stressful process, a very exciting and relaxed one.
Couldn't recommend them enough. Thanks again guys!"
Water Tanks
Having a rainwater tank installed is a fantastic option to improve the sustainability of your home. Integrate your water tank into your system and you can reduce your water costs substantially. And, if it doesn't rain for a while and you can't refill it, you can still make use of council water for all your everyday needs.
While every house built through No1 Property Guide's no or low deposit new home system is a high-quality house, there's always extra steps you can take to ensure you're living in an eco-friendly home.
Want to find out more about Darren Walters' no or low deposit home loan systems? Contact our team or get pre-qualified to begin your homeownership journey today.