Everything You Need to Know About Buying Your First Home
Buying your first home can be a daunting experience. Between different home loans, grants, and legal costs, there's a lot a first home buyer needs to know. Which is why Darren Walters created this comprehensive first home buyer guide with everything you need to know about buying your first home.
Whether you're buying an existing property, building a new home, have a full 20% deposit, or want to take advantage of our no or low deposit new home system, this guide has everything you need to know to get started on your property journey.
Borrowing Capacity
Possibly the most important thing you need to know when you're looking to buy your own home is how much you can borrow. If you don't know what you can afford, then you won't know what sort of house you can get or where you can buy. Understanding your borrowing capacity is a crucial first step when entering the property market.
Your borrowing power is basically determined by comparing your income against your debts. Calculating this before you start your journey means you will know your factual options and what you can or can't do.
If you want to discover your borrowing capacity, head over and do our 5-minute pre-qualification to get started.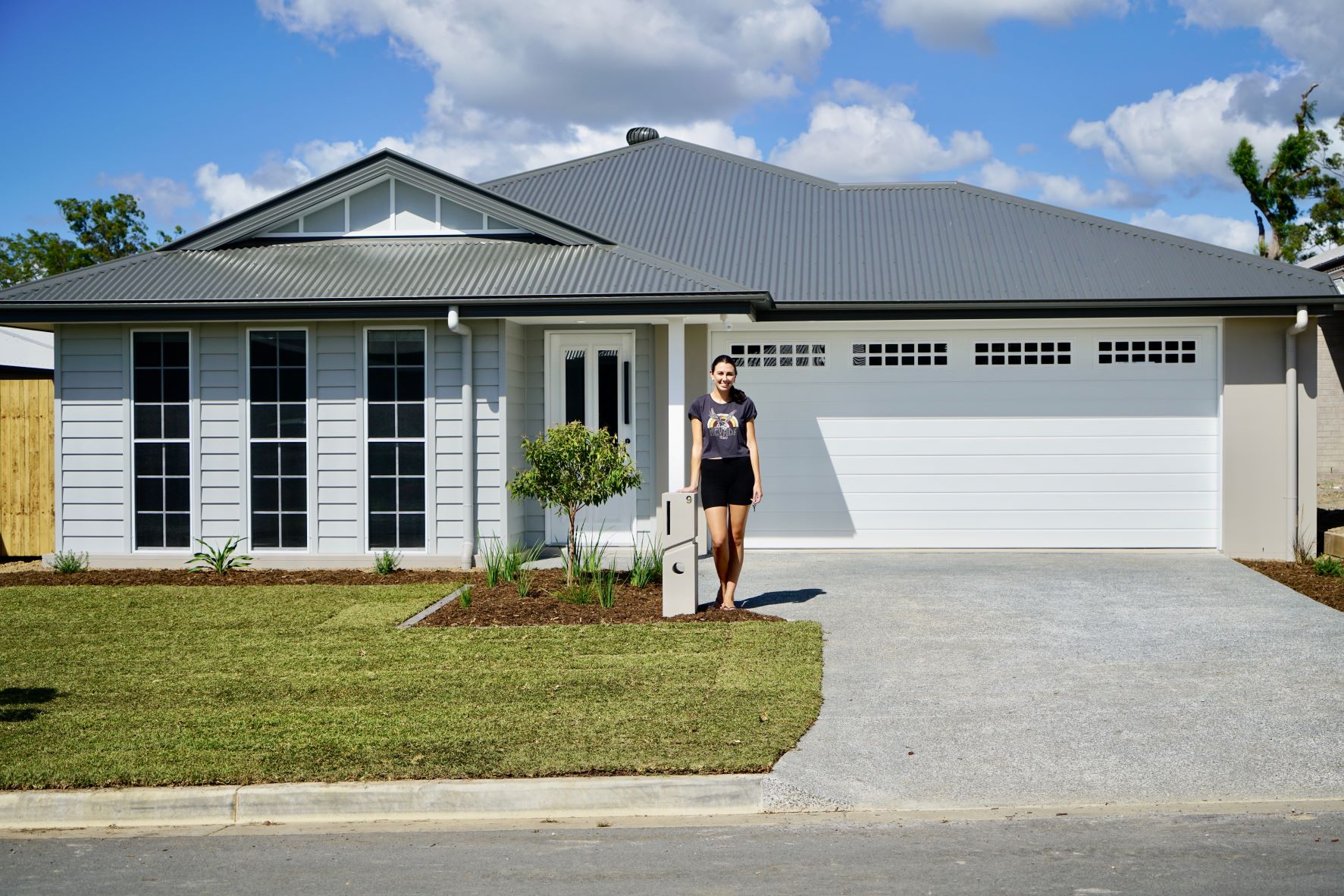 Deposit
Being able to afford the repayments doesn't mean you'll be approved for a loan, however. 'Standard' home loans from a bank or lender will require a 20% deposit to be considered for approval—even with LMI. Of course, not all loans, lenders and banks are the same, so your situation and the terms and conditions of loans you can access may differ.
With property prices and the cost of living constantly increasing, these high deposit requirements can make it near impossible for first home buyers to enter the market.
To help ease the burden, the State and Federal Governments have introduced numerous grants, schemes, and incentives across the country.

Regardless of whether it's 5% or a 20% deposit, sometimes it's simply impossible to save the amount of money traditionally required to access a home loan. First time home buyers can be locked out of the market due to rising house prices and, therefore, rising deposit requirements. This is where No1 Property Guide comes in. We specialise in no or low deposit new homes that make it easier for first-time home buyers to buy their dream property. Contact us to find out how Darren's no or low deposit system can help you.
You May Like:
How to Save for a House Deposit
Low Deposit Mortgages for First Time Buyers
How to Buy a Second Property with No Deposit
Entering the Property Market with Low Deposit Home Loans
Low Deposit Homes the Key to Escaping the Rental Nightmare
How Much Deposit Do I Need for an Investment Property
Buying a House With No Deposit. Yes, It's Possible!
How Lenders Assess Buyers
Understanding how lenders are going to assess you is a great way to ensure you tick their boxes before they start checking. Lenders will use what are known as the '5 Cs of Credit' to assess your finances. They are:
Capital
Capacity
Collateral
Character
Conditions (Common Sense)
Capital can basically be summed up as your deposit. Lenders will look at your savings and overall financial situation to understand the 'capital' you have. This is generally considered the single most important aspect of a home loan and will often be the roadblock for many potential buyers.
Capacity is how much you can afford to borrow. It's basically just your income versus your debts, taking into account possible interest rate fluctuations and potential debts like credit cards. As a general rule, many lenders will calculate your borrowing power with an added interest buffer to account for any fluctuations.
Collateral is essentially the value of the property you're looking to buy. This ensures that if you default on your home loan, the lender can make back their investment by selling the property. There's a lot of criteria to this, including the suburb, the type of property, neighbouring infrastructure, and even access to the CBD or nearby cities.
Character is all about your financial conduct and credit history. Things like stable employment, good credit score, good savings (or in some cases good rental payment history), and overall payment history on credit cards and other debts.
Conditions or Common Sense is mostly things that don't fall into the other areas but are considered reasonable criteria to judge on. For instance, whether you gamble regularly, get short term loans, or just have bad spending habits.
Types of Home Loans
There are many different types of loans and the specifics of each will vary from lender to lender, so we always recommend you seek professional financial advice before engaging in any kind of financial decision. But there are a few things to look out for.
Basic Home Loans
If you're only looking to borrow a small amount, or don't want any of the extra frills or fancy extras, then a basic home loan may be the right call. These usually have basic application processes, lower or no additional fees, and are simple to understand.
Professional Home Loans & Offset Accounts
If you're borrowing a larger amount, or want to capitalise on some incentives, a more professional home loan or offset account home loan package might suit you better. These will usually come with additional benefits that can help save you money over the course of your loan.
Construction Loans
Construction loans are a little different to the other kinds of home loans, as they're essentially split into 2 parts. The first part is a basic, interest-only loan. This will usually only last from the time you've bought the land, through to the end of the construction of your new home. In some cases, it will be a fixed 2-year period instead.
Once the interest-only period is over, you will then revert to a more traditional home loan. This will generally be a basic mortgage, but you'll have the option to change it or refinance after this to find the product that suits you.
LVR
Part of the process for lenders when assessing your application is looking at your LVR (loan to value ratio). Your LVR is basically just the amount of money you are borrowing from the lender.
So, if you are borrowing $450,000 for a $500,000 property, then you have an LVR of 90%. Banks and lenders will typically put a lot of emphasis on the LVR as a higher LVR means higher risk, which is also why a deposit is so important to them.
This is also how lenders will calculate whether you'll need to pay LMI, and how much. Which is why a 20% deposit is so important to many first home buyers.
Luckily, a high LVR isn't the end of the world. At No1 Property Guide, most of our clients have an LVR over 90% but are still able to get approved. That's because Darren's system is tailored to fit the bank's lending criteria and increases your chances of being approved.
Genuine Savings
Genuine savings is a term that many first-time home buyers probably haven't heard of. Basically, genuine savings are funds you've saved over time—not money that might have been gifted to you or won from the lotto.
Many lenders will require around 5% of your deposit to be 'genuine savings'. This can obviously be a bit of a trip up if you've never heard of the term and were planning on using a gift as a deposit. But luckily there are actually a few ways to make your savings 'genuine'.
The easiest option is to leave the money in your account for 3-6 months. After 3-6 months banks and lenders will consider it genuine. However, this doesn't include borrowed deposits.
Or, if you don't want to wait, try to apply for mortgages that don't require genuine savings at all. Some lenders have home loan products that allow you to use your rental history as proof of your saving ability, or don't require your savings to be 'genuine'.
ARVE Error: src mismatch
provider: youtube
url: https://www.youtube.com/watch?v=sRIjJfsYFJE
src in org: https://www.youtube-nocookie.com/embed/sRIjJfsYFJE?feature=oembed&wmode=opaque
src in mod: https://www.youtube-nocookie.com/embed/sRIjJfsYFJE?wmode=opaque
src gen org: https://www.youtube-nocookie.com/embed/sRIjJfsYFJE


LMI (Lenders Mortgage Insurance)
Lenders Mortgage Insurance (LMI) is a type of insurance you pay that helps protect the lender in the case you default on the loan. Generally, if you're borrowing more than 80% of the value of the property, you'll pay LMI.
The amount of LMI depends on 2 factors: the LVR and the overall loan amount.
The better your LVR is, the lower your LMI will be. Larger loans are inherently riskier, because of this, LMI costs typically increase at the $300,000, $500,000 and $1,000,000 marks. So, if you're able to get your loan amount under one of these price points, even if it's by a dollar, then you'll potentially save thousands of dollars over the course of your loan. Discuss with your lender what their breakpoints for LMI are, as there could be other breakpoints used by your bank which you might be able to aim for.
Of course, LMI isn't just some big, bad expense you need to avoid at all costs. In most cases, it's the difference between being able to buy a home or not. The easiest way to look at it is like this:
Would you rather pay an extra $10-15k over the life of your loan for LMI, or pay an extra $50-100k when (if) you manage to save the rest of your deposit because property prices have risen again?
How to Budget
If you've been trying to buy your first home, you've probably started budgeting. Whether you're budgeting to save or preparing for the commitment of paying back your loan, having a clear understanding of your current and ongoing expenses is vital.
One aspect you'll need to consider when budgeting for your first home is the initial cost. The price of the house isn't the only expense you need to pay. Some of the additional upfront costs include:
Transfer registration
Stamp duty
Mortgage registration
Loan establishment fees
Settlement fees
LMI fees
Conveyancing fees
Building & pest inspections
Removalists
Utility setup
First home buyers are generally exempt from some of these fees, like stamp duty, which helps a lot. But there are several fees and costs you'll need to consider when setting your budget.
If you're early on in the process, start going through your expenses and assessing what is necessary. Try to separate costs into needs and wants. Going out for dinner twice a week? Cut back. It's easy to forget about monthly subscriptions over time, so reassess all your direct debits and look for ways you can cut costs without affecting your day-to-day.
Of course, talking to a trained financial planner or accountant is the best approach. They will be able to give you tips and advice on how to save money and get ready for paying off your new home.
Read More:
Money Saving Tips for Buying Your New Home
Grants
Sometimes, no matter how well you budget it just seems impossible to save the amounts needed for a deposit. Luckily the Federal and State Governments have first home buyer incentives available in almost every part of Australia. Concessions on stamp duty and various grants can help reduce the costs of your loan or even act as a deposit. Most banks and lenders will allow first-time home buyers to use their First Home Owners Grant as part of their deposit, which is a huge help when you're struggling to save.
First-time home buyers are also generally exempt from paying stamp duty in most states and territories, which is a saving of thousands depending on the cost of the home.
If you're not sure whether you're eligible for any grants or incentives in your area, complete our pre-qualification and our New Home Specialists will work you through all your factual new home options.
Read More:
Queensland First Home Owners Grant
New South Wales First Home Owners Grant
Victoria First Home Owners Grant
Western Australia First Home Owners Grant
South Australia First Home Owners Grant
Tasmania First Home Owners Grant
How to Find the Right Property
So, you know what you can borrow, you've been saving, and you've got your budget in order. Now it's time to start looking for your dream home. First, know what you want. Whether you're planning on having kids in the near future, need a backyard for your dog, or just want something small and simple for yourself. Understanding what you're after is important.
Along with the must-haves, what are some of the extras you'd like? Do you need air conditioning? Want room for a garden out the front? Little things like that can take your first home from being a place you live to your dream home.
Of course, you also need to look within your borrowing capacity. That's why this is such a crucial step in the process. Without first knowing what you can afford, you won't be able to get an accurate understanding of your factual options. Or know exactly what you can or can't do.
At No1 Property Guide, we always calculate your borrowing capacity as our first step. This lets us understand your situation accurately, while also being able to find you the perfect new home to fit your capacity. Contact our house and land specialists to find out more.
Location
When it comes to location, you probably already have somewhere in mind. Most people have a general idea of where they want to live, whether it's close to work, the kids' school, or just the area they grew up in. But you'll need to consider whether the suburb is affordable for you to buy in.
Historically, property prices in Australia have doubled every 10-15 years. This means the area you grew up in might not be as affordable as it used to be. When you're looking for a location for your new home, take into account your borrowing capacity, and set your expectations accordingly.
While it might be your dream to live in the centre of Sydney or Melbourne, if you don't have a borrowing capacity of a million or two, then you're going to struggle to get your foot in the door.
If you know your borrowing capacity when you get started, you can find locations that match your general buying power. Of course, you'll also need to consider other factors like deposit and lending criteria. But knowing what you can afford, and the general cost of an area is a great place to start.
But the price isn't the only factor you'll need to consider with location. Land and housing availability will play a big factor in the areas you're looking at. Especially if you're looking to build a new home.
Land has become a scarce resource in Australia, and it's basically impossible to find any vacant lots in well-established or popular locations. And any land that is available is snapped up immediately, and at a very high premium.
This means, if you're looking to build, looking further out of the CBD is generally the best option. This also gives you a better opportunity to find larger blocks of land, with more freedom to create your dream home.
Select your preferred location
New Build or Existing
Like we covered before, knowing what you're after is important, but sometimes it's just not possible to find a property that ticks all your boxes. That's where new builds come in. Building your new home may offer you the best option for getting everything you wanted. If you're a first-time home buyer, you can often get access to additional grants if you're building a new home (especially in some regional areas). Which can make building a new home financially better than buying an existing one.
If you want to know more about our new build options, contact one of our property specialists today.
If you're looking for a new property ASAP or need to live in that dream suburb with no land, then buying an existing home is your best option. But buying an existing home doesn't mean you don't have options to make your house feel like yours. Don't forget, unlike rentals you OWN that property. You can always renovate to change any part of the house to suit your tastes. But you'll need to take those additional costs into account when you're considering which home to choose.
When looking at existing properties, it's helpful to create a checklist of what you want in a home and take that with you to inspections and open homes. Take notes as you walk through the property and tick items off your list as you go through. This will help you narrow down your search and rule out properties that might not have that one thing you have to have.
Whether you're looking to build new or buying something completed, getting into the market as soon as you can is crucial. Don't get stuck in the rental nightmare for the rest of your life because you didn't take the time the understand your factual options. Simply fill in our pre-qualification form and one of our New Home Consultants can tell you exactly what you can or can't do through Darren Walters' unique no or low deposit new home system today.
You May Like:
More Buyers Looking at New Home Builds
Guide to Buying a New Build Home
Investment Property
An increasingly popular move for many first home buyers is buying an investment property and using the income from rentals to service the loan. This is a great option to get into the property market and build your portfolio. Just be aware, there are a number of conditions when applying for grants for first-time homeowners so make sure you get professional financial advice and fully understand your options before buying an investment property.
You May Like:
Property Investment for Beginners
How to Use Your First Home as an Investment Property
Where to Buy Investment Property in Australia
How to Buy Investment Property in Australia
How Much Deposit Do I Need for an Investment Property
Can I Use my Super to Buy an Investment Property?
Experts You Need to Consult
When you're buying your first home or any property, you're going to need to deal with a range of experts to make sure everything is in order. Who you'll need to deal with will vary depending on a few different factors.
Mortgage Broker / Lender
First of all, you're going to need a mortgage broker and/or lender. This is probably the most important decision you'll make as this will affect your entire home loan. Mortgage brokers are often the best choice as they will work to make sure you get the best deal possible. And, because they get paid commission from the lender you go with, they will often do the process for free or only a small fee.
Don't worry, there's essentially no difference in what a broker will be paid from lender to lender, so there's no financial benefit for them to push you into a loan from one lender over another.
Conveyancer or Solicitor
Once you've chosen your lender, you're going to need someone to handle the legal side of things for you. These experts are called conveyancers or solicitors. Basically, they'll make sure you don't get screwed over in the paperwork and make sure everything is above board. Each conveyancing company or solicitor will charge in different ways, and some will be able to offer deals if you're working with them for the entire home buying process.
Building & Pest Inspectors
If you're buying an existing property, you'll want to get a building and pest inspection done as well. This is so you can be sure you're buying a house in good condition, with no hidden structural defects or insect infestations. And if you're buying a unit or apartment, you'll also want to get a strata report done as well.
Builders & the Council
Whereas, if you're building your new home, you will need to work with builders and the council for approvals to get construction underway. However, you won't need to do a building and pest inspection as it's all brand new! That said, building a property requires other kinds of reports as well, like soil testing etc.
Of course, if you're working with us at No1 Property Guide, you only need to talk to us. We organise everything for you, including permits, builders, reports, and even your home loan. If you want to know more, talk to one of our property specialists about our no or low deposit house and land packages.
As always, we recommend seeking professional legal and financial advice before making any decision, especially when it comes to buying your first home.
ARVE Error: src mismatch
provider: youtube
url: https://www.youtube.com/watch?v=5nZHtuVyPlU
src in org: https://www.youtube-nocookie.com/embed/5nZHtuVyPlU?feature=oembed&wmode=opaque
src in mod: https://www.youtube-nocookie.com/embed/5nZHtuVyPlU?wmode=opaque
src gen org: https://www.youtube-nocookie.com/embed/5nZHtuVyPlU


Making an Offer on A Property
Found an existing property or block of land that you want to buy? Great! Now it's time to make an offer. Making an offer on your potential new home can be nerve-wracking. But there's nothing to stress about. If you're reasonable, asking the right questions, and working with your conveyancer or solicitor to ensure everything is in order, you will be fine.
Here are some general tips to make the whole process a bit easier for you:
1. Don't Rely on the Advertised Price
While the advertised price might seem reasonable, make sure you do some research around the area. Find out what the average selling price for similar properties nearby is. Maybe they're asking for too much, or maybe too little. If it's well under what other properties sold for, that could indicate underlying problems.
2. Ask Questions
Make sure you're asking questions—the right ones. Price seem too good to be true? Maybe there are some issues with the property lowering the price. Try to find out why they're selling, how old the property is, how long it's been for sale. As a bonus tip—and this is applicable outside of property as well—ask if they're flexible on the price. If you don't ask, you won't know!
3. Know Your Budget
This can be the toughest one for any home buyer, but it's vital you know what you can afford, and you stick to that. It's no good spending $100k extra to get your dream home only to lose it because you can't afford the repayments. It can be tough having to walk away, but sometimes a property is simply too expensive.
This is why calculating your borrowing capacity is our first step at No1 Property Guide.
4. Make a Reasonable Offer
Don't be afraid to make an offer lower than what they're asking for, many sellers will put extra onto their asking price to get offers around what they're actually after. But don't be unreasonable with your offers. If you lowball them too hard you might just get shut out and then you'll miss out on that dream home. It might take a few shots, but you'll eventually get comfortable offering less than the asking price.
5. Get the Paperwork Checked
Almost every step of the process should be accompanied by your conveyancer or solicitor, but this one is crucial. Make you have your conveyancer or solicitor go over the paperwork for your offer to ensure everything is in order. This will prevent you from making any slip-ups and could save you down the line.
6. Make the Offer in Writing
This one's a neat little trick. Make sure your offer is in writing to the real estate or whoever is handling the sale process of the property. This means they will be obligated to show it to the seller. That way the agent doesn't just throw away your offer in the hopes a better offer will come later.
Cooling-Off Period
Once you've made your offer, they've accepted, and you've signed the paperwork (after your conveyancer or solicitor has gone over it of course), it's time for the cooling-off period. The cooling-off period is crucial and plays a big part in the buying process. The cooling-off period is a fixed length of time where the buyer and seller can change their mind without expensive repercussions.
As the buyer, if the seller changes their mind you won't need to pay any fees. As they have cancelled the sale. But if you change your mind during the cooling-off period you will need to pay a termination fee. The exact length of the cooling-off period and the cost of termination will vary depending on your location. But it's generally 2-5 days and around 0.25% of the purchase price.
If you change your mind after the cooling-off period you will incur substantial financial fees. Which is why the cooling-off period is so important.
Taking Ownership of Your Home
Once you've completed your settlement and got the keys to your brand-new home, it's time to move in. It's honestly not too different from simply moving into a new rental, you'll want to set up electricity, gas, phone and internet ASAP. Your water will be set up by the local water provider once your solicitor or conveyancer informs them.
If you've bought an existing property and you're worried about security, it might be a good idea to have the keys and locks changed to brand new ones so you can rest easy knowing no strangers have a key to your house.
How to Pay Off Your Loan Quicker
Finally, like many other homeowners, you're probably going to want to pay your loan off ASAP. Unfortunately, unless you win the lotto, you're most likely going to be paying off your loan for the majority of the original loan term. However, there are a few tips for potentially shaving years off your loan repayments.
Pay a little extra – This one's pretty simple. Just pay a little extra whenever you can. How much you save will obviously depend on how much extra you commit. But a little here and there can go a long way over 25-30 years.

Pay weekly or fortnightly – Another popular method is making payments more often. Most home loan repayments are set to monthly. But, seeing as interest is calculated daily, if you're splitting your monthly repayments up and making them more frequently, your interest will naturally be lower.

Offset Accounts – This one's a little more technical but has the biggest potential. Offset accounts aren't charged interest, so if you have $30,000 in an offset account and a $400,000 mortgage, you'll only be charged interest on $370,000. Most lenders will have a calculator you can use to see just how much you'll save if you use an offset account.
ARVE Error: src mismatch
provider: youtube
url: https://www.youtube.com/watch?v=J0HOBybgtEI
src in org: https://www.youtube-nocookie.com/embed/J0HOBybgtEI?feature=oembed&wmode=opaque
src in mod: https://www.youtube-nocookie.com/embed/J0HOBybgtEI?wmode=opaque
src gen org: https://www.youtube-nocookie.com/embed/J0HOBybgtEI


Final Advice
Whether you're buying new, building a custom home, or just looking for now, understanding the process of buying your first home is vital. Hopefully, this first home buyer guide has given you the information you needed to make an informed decision about buying your first home. There are a lot of steps and information to take in and there's often no right or wrong answer a lot of the time. So don't be afraid to ask for advice.
Of course, if you know what you're after or want to know more about No1 Property Guide's no or low deposit new home system, don't hesitate to contact us, or get pre-qualified here.