When you're getting ready to move into your new home, the thought of packing can be enough to put you off the whole thing. And that's understandable—especially if you've been living where you are now for some time and have already started your family. To make life easier for you, Darren Walters and our New Home Specialists at No1 Property Guide put together this checklist for moving into a new home for you.
At No1 Property Guide, we've helped thousands of renters move into a new home, so we have plenty of experience helping people get ready for a move. Join us as we take you through some essential tips for moving into a new home.
Declutter First
This may seem like common sense, but you'd be surprised at how many people save this step for when they unpack at the other end!
If you're wondering where to start when packing to move houses, it's a great idea to sort through your things first. This can take a lot of time, particularly if you need to get kids on board. Make sure you leave yourself enough time!
It'll also help if you know how much space you have to work with at your new house. Take into consideration the storage and layout of the home so you can picture where things might go.
Reducing the amount of things you need to pack and then move can save you so much time.
Darren's Top Tip: If you haven't worn an item of clothing in the past 6 months, it's time for it to go.
Work Through One Room at a Time
It's easy to become distracted once you've started packing. Try sticking to one room at a time. It helps make the process more efficient and streamlined.
It can also help you to keep the new space in mind when you're deciding on what to keep.
Remember to label your boxes based on where you want them to go in the new house.
Darren's Top Tip: Try to use up as much of your pantry contents as possible before moving. This will save you the effort of packing up your food, as well as money on your grocery bills leading up to the big day.
Kitchen
Everyone has a 'stuff' draw in the kitchen.
Lids without matching containers, half-full packets of Blu Tack, that broken can opener that no one has ever fixed.
Considering the kitchen is the hub of most homes, having one which is neat and organised can make the world of difference. Mealtimes will be more efficient, and so will odd jobs around the home once you know where to find everything.
Darren's Top Tip: Try using a shoe box to pack up each draw in the kitchen and you'll quickly see how much space these things take up.
"My Family would like to thank the team at NO1 Property in being able to make our dream come true. If it weren't for their dedication and direction this would not have been achievable.
To Darren you have something very unique and the system you utilise is awesome to assist so many people like us. We started our discussions a couple of months ago and with the help of your team we have now received unconditional Approval. "
Bathroom
The bathroom is one of those rooms many people don't think about when moving until the last minute. But it's actually one of the easiest rooms to pack!
The night before you move, after you've had your shower, put everything you won't need the next morning into a box and pack it up ready to go. Then in the morning, once you've done your morning routine, throw the last few bits and bobs in.
Then just tape it up, label it and you're good to go!
Darren's Top Tip: Try to wash any dirty laundry a day or 2 before the move so you have less floating about during the move.
ARVE Error: src mismatch
provider: youtube
url: https://www.youtube.com/watch?v=oHCfxiWKjfU
src in org: https://www.youtube-nocookie.com/embed/oHCfxiWKjfU?feature=oembed&wmode=opaque
src in mod: https://www.youtube-nocookie.com/embed/oHCfxiWKjfU?wmode=opaque
src gen org: https://www.youtube-nocookie.com/embed/oHCfxiWKjfU


Know Where Your Important Documents Are
If you don't already have a good filing system in place, now is probably a good time to start! This could range from a simple shoe box to a more complex labelled folder system. As long as you know where to find them because chances are, you'll need them sooner than you think.
Connecting your internet and electricity will require documentation and proof of ID, and so will arranging home and content insurance.
Darren's Top Tip: A simple one-draw safe with a lock and key makes for a great place to store documents. And it'll be tough enough to survive the move!
Put Together an 'Unpacking' Box
Think about what items you might need to help you unpack once you get there. Things like allen keys, tools, and moving trolleys.
There's nothing worse than not being able to find what you need at the end of a long day of moving.
It's also a good idea to leave one decent sized box free for the last day or so. You will still need to use certain items from your kitchen and bathroom before you move. Having somewhere easy to put them right before you leave is really hand. Label this box "last minute essentials" so you know what's in it later!
Darren's Top Tip: Include cleaning cloths and sprays in your unpacking box. Even if you're moving into a newly built home thanks to No1 Property Guide, dust can build-up between key handover and move-in day. Seeing your furniture and other items from new angles can also reveal grime you didn't know existed.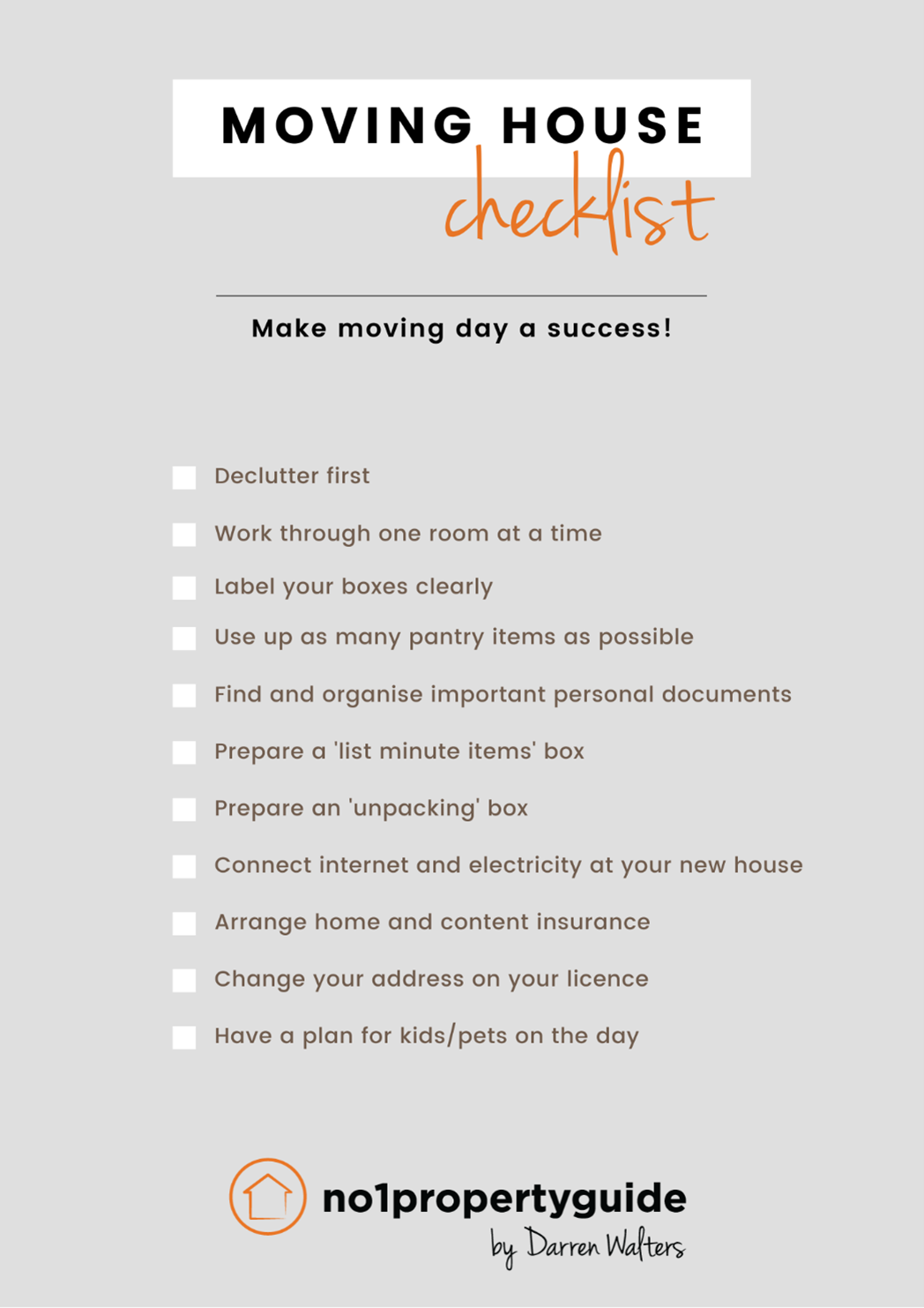 Moving Checklist
To make your move into your new home easier and less stressful, we've put together this moving house checklist for you.
Where to Begin
Finally, you need to know where to start! Packing is a nightmare for most people so getting it started ASAP will make it a lot better. You want to start with the rooms and items you use the least or won't before you move. Usually, things like the storage room and the garage/shed etc. If you're packing relatively close to the moving date, you can usually pack most of the things like excess clothes, kids toys and anything you can live without for a few days. Make sure you leave enough clothes to get through to the new place though!
The day before you move you want to pack everything you won't need on the day. The rest of the clothes, your personal belongings and as much of the kitchen and bathroom stuff as you can.
Darren's Top Tip: Make sure you leave out enough toys or entertainment to keep the kids busy. You don't want to be digging through boxes looking for their toys because you accidentally packed them a week early.
Whether you're buying an existing home or are building new through Darren Walters' no or low deposit new home system, moving into a new home is an exciting and exhausting time. Our checklist into moving for a new home is a great start for moving day. But it never hurts to make your own checklist as well!
Or, if you're still renting but want to break out of the rental cycle, fill in our pre-qualification form so you'll never need a moving day check list again.
More about, Checklist for Moving Into a New Home: